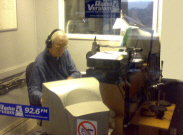 I gained my interest in broadcasting from doing commercials in the first instance. There was something about entering a studio and talking into a microphone that gave me an adrenaline rush that has never left me.
Having been in the forefront of advancing technology, during the eighties I presented with Norris McWhirter on the BBC programme "Technology Today" which was also broadcast on the BBC world service.
We would discuss items such as miniature electronic gadgets which, today, would seem very out of date but at the time was the absolute latest in semiconductor technology. It has to be remembered that valve technology had only been replaced for 12 years at the time so semiconductors and minicomputers were only in their infancy and home computers hadn't yet arrived.
I went on to broadcast with LBC and had a weekly 2 hour programme on Radio Verulam 92.6 FM called Friday Focus which dealt with topical news stories in Hertfordshire and North London. The programme featured live interviews with studio guests each week. The station is also listened to by over 5,000 listeners overseas via the Internet.
My regular TV appearances are with Al Jazeera television as a commentator on business and economic matters which is broadcast throughout the world on their English speaking channel.